---
Biogas
We provide continuous and effective operation of Biogas Plants at home and abroad.
We have already successfully implemented more than 40 Biogas projects!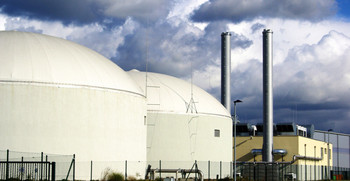 OPTIMIZATION of biogas plants
We help you with preparation of a new project
or with Optimization of your Biogas Plant.
We bring:
savings
Reducing own Energy Consumption
Minimizing Losses during Technology Failures
Streamline Operations Dispatcher (Operator)
Realiability
Continuous Diagnostics Technology
Prediction of Failures
Extension of Technology Supervision
comfort
Clear Communication with Operator
Outputs into Accounting
Electronics output for Energy Regulatory Office
economic development
---
Linking Biogas Plants with Complementary Technologies
Full utilization of Biogas Products
Conversion of Biogas to CNG
Continuous Economic Cost-Benefit Analysis
Conel automation PROVIDES continuous TECHNOLOGY PROCESSES SUPERVISION
---
Our Centralized Supervisory System provides efficient Control and Remote Technology Administration.
Using this System, a Service Technician is able to react immediately in mode 24/7.
We provide prevention from Energy Failures by appropriate On-line Diagnostic of Sensors, Actuators
and Cogeneration Units.
We detect "Strange Behavior" of Sensitive parts of Technology in sufficient time advance
and we propose Solutions.
Our automated Control System allows Biogas Plant to respond to increased capacity requests
from the "Smart Grid" in a flexible but secure manner.
Our systems provide Optimization of Biogas Plant for "Peak Energy Demand" operation.
Selection of the most interesting Comprehensive solutions from Conel Automation:
2013

Revúca, Slovakia

2013

Býkovice, CZ

2013

Maršovice, CZ

2013

Brloh, CZ

2013

Lkáň, CZ

2013

Vilémov, CZ

2013

Bač, Serbia (electric design of 4 pcs BGPs)

2013

Okříšky, CZ

2013

Valeč, CZ

2013

Horní Dubňany, CZ

2013

Dešov, CZ (reconstruction)

2013

Telč, CZ , 250 kWe

2012

Otice, CZ, 0.6 MWe

2012

Prusinky, CZ, 1 MWe

2012

Starosedlský Hrádek, CZ, 0.8 MWe

2012

Chotovice, CZ, 0.6 MWe

2012

Jankov, CZ, 0.5 MWe

2011

Hrotovice, CZ, 0.6 MWe

2011

Petrovice, CZ, 0.8 MWe

2010

Bol'kovce, Slovakia, 1 MWe

2009

Vel'ký Ďur, Slovakia, 1 MWe

2008

Vysoké Mýto, CZ, 0.65 MWe
Photogallery
Biogas Plants
Do you have a question? Write to us
---
---