---
We have created new websites for you
04.04.2014 12:50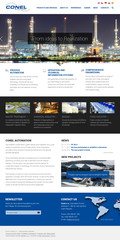 We have created successful new websites in cooperation with Internet professionals from the company eBRÁNA.
We have prepared lots of interesting content, original graphics and transparent structure of new websites. We can make presentations by ourselves and easily update as well thanks to the Content Management System (CMS) WebArchitect. So you can always look forward to reading the latest information from our company.
eBRÁNA is a purely Czech provider of Internet solutions and helps businesses acquire new customers thanks to creation of the websites and Internet marketing. It brings over 1 million visitors per month on the sites of clients using an advanced SEO search engine optimization, professionally managed PPC campaigns and other internet marketing tools.
---
---
Свяжитесь с нами
Conel Automation s.r.o.
Hradecká 131/45
500 11 Hradec Králové
Czech Republic
помощник: +420 493 034 059
сервисный отдел: +420 605 535 389
E-mail:
© 2021 Conel Automation s.r.o. – все права защищены
Страничку изготовила eBRÁNA s.r.o. | Изготовлено в системе CMS WebArchitect | SEO a internetový marketing